==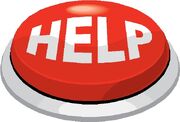 NEW USERS== New users might need a lot of help.So,we suggest you to contact admins to get all th help you can get by leaving a message on their message wall.Beside that,you can visit the community central by contact one of the admin or joining the community chat to help you.We advised you to visit BigFish Content for a refer.
Admin can do everything they should do such as blocking and unblocking users,editing,uploading and so on.But you still need to refer to the BigFish Content for a better decision.All the rights you want to give must be approved to User:Harmee by contacting him on his message wall.
Ad blocker interference detected!
Wikia is a free-to-use site that makes money from advertising. We have a modified experience for viewers using ad blockers

Wikia is not accessible if you've made further modifications. Remove the custom ad blocker rule(s) and the page will load as expected.